Read the current issue of "AMAZING STORIES" e-Zine featuring an article on Marilynn Flynn's Space Art.
Click HERE to go to "AMAZING STORIES"
"THE BEAUTY
OF SPACE"

A Book on
Space Art from the International Association of Astronomical Artists

Edited by Jon Ramer
Foreword by Alan Bean
CLICK HERE TO ORDER

(Link takes you to offsite)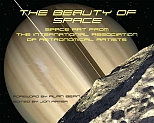 This informative and visually spectacular book follows the history and evolution of the Space Art genre. Exploring various styles and techniques, it features more than 200 gorgeous images of space art from early classic illustrations to fine art space paintings by modern masters, including Marilynn Flynn.
"ASTRONAUT TRIPTYCH"

©
2012 Marilynn Flynn
A series of 3 hand painted digital artworks represents our progression in exploring space with
"Astronaut Earth", "Astronaut Moon" and "Astronaut Mars"
click an image for more information and to order

Copyright 2013 Marilynn Flynn/Tharsis Artworks/Airtanker Art/Artellus Artworks
All Rights Reserved. No part of this website may be reproduced in any manner or media without permission.
See LEGAL page for more information.
"TITAN'S SOUTHERN SUMMER "
AWARD WINNING PAINTING
BEST in SHOW - U of A's "Art of Planetary Science"
3rd PLACE/BEST PAINTING Category - "SPACEFEST V"
©2013 Marilynn Flynn
Cloudbursts of liquid methane rain down into a canyon on Saturn's moom Titan, flooding a river carving a channel through layers of frozen ices and rock mixed with hydrocarbons.
"VISIT VALLES MARINERIS"
© 2012 Marilynn Flynn
Two tourists traipse to the edge of the "Grand Canyon of Mars" in this vintage travel poster inspired painting.